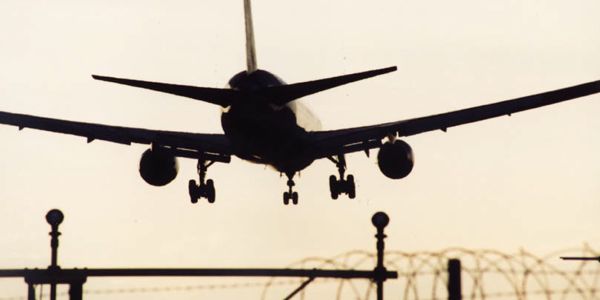 Summer has finally arrived, conjuring up all manner of fun, relaxation and, of course, vacation adventures.
In today's fast-paced world, people sometimes forget that the journey to our destination — for our well-deserved and much-needed breaks — is supposed to be part of the fun. But it doesn't always work out that way, does it?!
Traveling, even for good times, often sets the stage for anxiety attacks, stress and most of all, bad tempers. There are a lot of hotheads around this time of the year. Could one of them be you?
Going away sometimes seems more of a nightmare than a path to anticipated pleasures. While the adage "change is as good as a rest" often rings true, change also is disruptive to routine. Consider this other adage: "We are creatures of habit."
Hence the paradox. Of course we want to get away from it all, yet we love our routines and our creature comforts — and herein may lie the irritability, bad moods and unexplainable tempers that are mixed in with moments of elation and excitement.
Disrupting our routines means anxiety and bad tempers often win out. Now not only does the person displaying hotheaded behaviors suffer, but so does everyone else around him or her.
Then there's the pressure to feel upbeat, happy, even excited. If you are going on vacation, why would you be anxious, friends and neighbors say: You're getting away for a good time. When in fact your inner conflict is understandable and quite normal.
We don't mean to display such negative emotions, but we also don't understand what we are experiencing.
Here are some tips to reduce the stress of traveling — and the odds of anxiety leading to disruptive hotheaded behaviors:
1. Remind yourself you are going on vacation — this is something you want, need and deserve. You are leaving familiarity, but that change is temporary and you'll be back before you realize it. Remind yourself that most likely nothing extreme is going to happen while you are away and that the goal of the journey is pleasure. Focus on the wonderful experience that lies within reach.
2. Remember that other travelers suffer anxieties and fears, just as you do. Sometimes a smile or a reassuring comment will not only soothe their soul but perhaps yours as well.
3. Take a stuffed animal with you. Silly as that might sound, holding and touching a little bear or rabbit that you keep in your pocket or purse goes a long way in calming nerves and reducing blood pressure.
4. If you are on an airplane and a passenger is becoming too loud or confrontative, or appears to be drinking too much alcohol, call a flight attendant. They are trained in settling passengers. The troublemaker probably won't be responsive to you. Keep your cool and ask for help.
5. Bring some headphones, or a Kindle, or an iPad, Settle into a good book or listen to music to while away the time at airports, bus or train stations.
6. Buy some delicious and healthful snacks; carry enough water. Nourishment is important during stressful times; knowing you have some healthful food close by is reassuring.
7. Take naps while traveling. Learning to cat nap is invaluable. It restores the brain and body, and lifts spirits during stressful times.
8. Put a small cushion or pillow over the top of your head while sleeping. It helps block out light and noise so you can go off to dreamland effortlessly.
9. Crosswords, as dull as they may sound, can be good stress relievers during waiting times. If you have children include them in the challenge, or bring a pack of cards to play Rummy or Go Fish. Learn a new game. The more you are able to instill fun the easier your time.
10. Try very hard not to check your phone or email too often while away. Trust that the world will go on without you for a few short days or a week or two. Shut off your laptops, relax and be present not only for yourself but for those you love.
Let the world worry about what it needs to while you go have some rest, relaxation and FUN!
Related content: